< Previous Page

Next Page >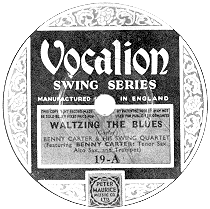 Returning home in 1938, Carter found the big band sounds, which he had helped shape, sweeping the country. He quickly formed another superb orchestra, which spent much of 1939 and 1940 at Harlem's famed Savoy Ballroom. His arrangements were much in demand and were featured on recordings by Benny Goodman, Count Basie, Duke Ellington, Glenn Miller, Gene Krupa, and Tommy Dorsey. In 1941, Carter pared down to a sextet, which included bebop pioneers Dizzy Gillespie and Kenny Clarke. In 1942, he brought a reorganized big band to California, where he has lived ever since. In the mid-1940s, the band included important modernists, such as Miles Davis, J.J. Johnson, Max Roach, and Art Pepper, all of whom have acknowledged their debt to Carter as a teacher. As Miles Davis once said: "Everyone should listen to Benny Carter. He's a whole musical education."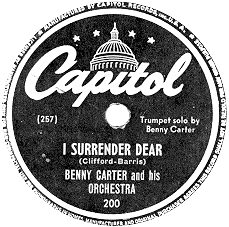 On the West Coast the versatile Carter moved increasingly into studio work. Beginning with "Stormy Weather" in 1943, he arranged for dozens of feature films and television productions. His credits encompass all musical idioms, from feature films such as "A Man Called Adam" and "Buck and the Preacher" to television shows, including "M Squad" and "Chrysler Theater." He has provided arrangements for almost every major popular singer including Billie Holiday, Ella Fitzgerald, Sarah Vaughan, Lou Rawls, Ray Charles, Peggy Lee, Louis Armstrong, Pearl Bailey, Billy Eckstine and Mel Torme.
Although Carter gave up full-time leadership of a big band in 1946, he has continued to tour as a soloist and with such all-star groups as Jazz at the Philharmonic. To to the delight of his many fans worldwide, Carter has resumed a more active playing schedule during the last few years. In 1975, he traveled throughout the Middle East on a tour sponsored by the U.S. State Department. He visits Europe often and has become a virtual commuter to Japan, where jazz fans eagerly anticipate his frequent tours of specially assembled all-star orchestras.

< Previous Page

Next Page >