< Previous Page

Next Page >
From 1924 to 1928, Carter gained valuable professional experience as a sideman in some of New York's top bands. He also traveled to the midwest to work with the Wilberforce Collegians, and to Pittsburgh for a stint with Earl Hines. Carter's recording debut came in 1928 as a member of Charlie Johnson's Orchestra, which was based in Harlem's Small's Paradise. Two of the arrangements recorded that day were by Carter, who had somehow managed to teach himself the craft of arranging. Later that year, Carter joined Fletcher Henderson's seminal orchestra, assuming the arranging duties previously handled by Don Redman. Carter's innovative scores, particularly his writing for the sax section, revitalized the band and, according to scholar Gunther Schuller, "Carter was now the arranger everyone followed."
In 1931, Carter became musical director of another important musical organization: the Detroit-based McKinney's Cotton Pickers. Already a major force on alto, he now returned to his first love, the trumpet. Within two years, Carter was making trumpet recordings that rivaled his alto classics. On both instruments, Carter has always displayed a rare ability to conceive a solo as a whole, without losing the spark of spontaneity.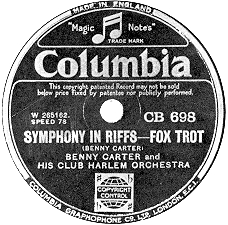 In 1932, Carter returned to New York and soon began putting together his own orchestra, which eventually would include such swing stars as Chu Berry, Teddy Wilson, Sid Catlett, and Dicky Wells. As was the case with all Carter-led units, the group was known as a "musicians' band." Unfortunately, high musical standards did not ensure commercial success, especially during the depression, and by late 1934, Carter was forced to disband.
A timely invitation brought Carter to Paris in 1935 to play with Willie Lewis's orchestra. At the suggestion of music critic Leonard Feather, he was invited to England to serve as arranger for the BBC dance orchestra. Carter played an essential role in spreading jazz abroad. Over the next three years, he traveled throughout Europe, playing and recording with the top British, French, and Scandinavian jazzmen, as well as with visiting American stars such as his friend Coleman Hawkins. In Holland during this period, Carter also led the first international, interracial band.

< Previous Page

Next Page >