Joe Wilder Named NEA Jazz Master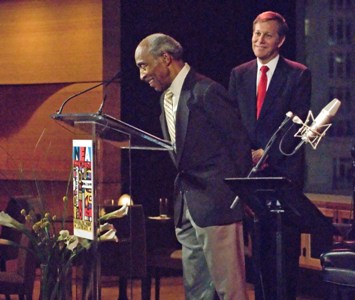 Joe Wilder with NEA Chairman Dana Gioia

On October 2, 2007, Evening Star artist Joe Wilder was among six musicians announced as the latest NEA Jazz Masters at a ceremony in Dizzy's Club at Jazz at Lincoln Center in New York City. NEA Chairman Dana Gioia hosted the event at which Wilder, Quincy Jones, Tom McIntosh, Gunther Schuller, Candido Camero, and the late Andrew Hill were designated to receive the nation's highest jazz recognition.

Joe Wilder was born into a musical family in Philadelphia in 1922. His father, Curtis, was a prominent local bandleader and bassist, and an older brother also played bass. Initially drawn to classical music, the trumpeter studied at the Mastbaum School of Music. Realizing that a classical career was not possible for a black musician coming of age in the late 1930s, Wilder set out on a veritable big band odyssey. During the 1940s and early 1950s, he brought his superb lead trumpet and solo style to the orchestras of Les Hite, Lionel Hampton, Jimmie Lunceford, Herbie Fields, Sam Donahue, Lucky Millinder, Dizzy Gillespie, Noble Sissle, and Count Basie.

With the demise of the big bands, in the 1950s Wilder found a new career in the orchestras of such Broadway shows as Alive and Kicking, Guys and Dolls, and Silk Stockings. The trumpeter also helped to break down the color barriers in the New York studios, where he served as a staff musician at ABC from 1953 to 1974. He eventually realized his early dream of playing classical trumpet as well. He earned a degree at the Manhattan School of Music, played on several occasions with the New York Philharmonic, and became principal trumpet of the Symphony of the New World.

Wilder continued to enhance his jazz reputation on albums with Hank Jones, Gil Evans, Benny Goodman, Tadd Dameron, and Benny Carter, among many others. He also became a favorite of such singers as Billie Holiday, Lena Horne, Harry Belafonte, Johnny Mathis, Tony Bennett, Helen Humes, and Johnny Hartman, whose work was complemented by Wilder's sympathetic accompaniment.

Wilder continues to appear regularly at festivals and concerts worldwide and is a favorite on the jazz party circuit. For the past decade, Wilder has been the senior member of the Smithsonian Jazz Masterworks Orchestra, which often places him in the singular position of performing historic big-band charts that he played when they were new. He is on the faculty at Juilliard, and has recorded three critically acclaimed CDs for the Evening Star label: Alone With Just My Dreams (1991); No Greater Love (1993); and Among Friends (2002). He received an honorary doctorate from Hamilton College in 2004.

Copyright &copy 1996-2007 Evening Star Records, Edward Berger